September 30, 2011: We had a dressage lesson today, and at the end of it Tracy and I created as scary a fence as we could do with dollar store stuff -- bright flowers, bright orange jack-o-lantern buckets, and even a couple of orange balloons that we were able to just suspend in the middle of the fence. No probs! Gamble sailed through everything -- even getting the balloons to bounce off of him during one jump. He's so sane!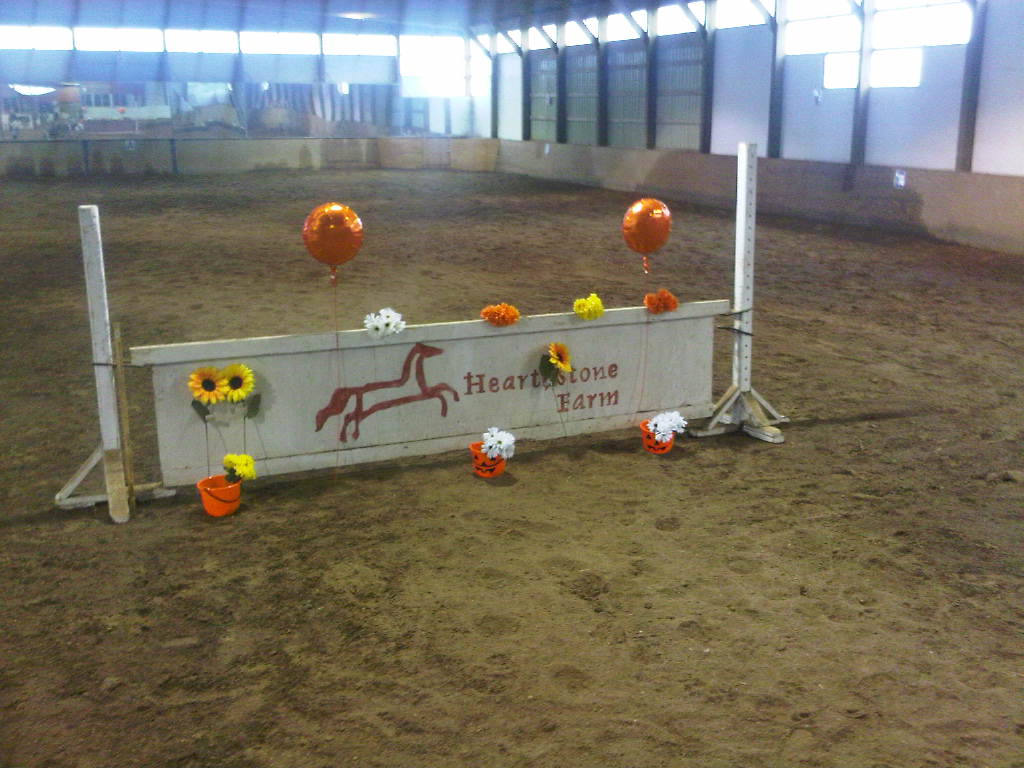 September 25, 2011: We did an Event at Glen Oro, north of Barrie Ontario, this weekend. The dressage continues to be a challenge. Gamble was looking at the boards of the dressage ring (bending out) for much of the first half of the test, but then settled down for the last half. We've been struggling to pick up the correct leads, but had no issues during the test itself. We scored 59.5% (60.8 penalty points). Dressage Test

In Stadium jumping, we had one pole down at the second last fence, but there were no issues with scariness or height.

In cross-country, we got over all the scary stuff - bank down, bank up, ditch, trakaeners - but had a refusal at the Sharks Tooth. So, not in the ribbons this time, but still there was progress.


September 20, 2011: I have continued to work both Gamble and Rapport. Rapport is up to 8 minutes at a canter and is feeling strong without even a hint of lameness after these sessions. With Gamble, the concentration has been on dressage, but also on getting him used to scary fences since his issue isn't the height -- its the scaryness. We did the coop out at the side of the field (3'1", I believe) and hie did it first time, no sweat, no argument! (Rapport always gives me grief!). And Tracy and I had him over 3'8" today in advance of an Event this coming weekend at Glen Oro.

September 1, 2011: I took Rapport and Gamble each out tonight for some cardio work. The plan was to work Rapport as lightly as possible at the canter for 6 minutes (2 x 3 minutes with 2 minutes in between), and to work Gamble at Pre-Training speed for 6 minutes as well.

Rapport was easy -- we took a nice leisurely pace (which he is very good at) and did roughly 3 minute kilometres with a two minute break. He was a bit sweaty at the end, but certainly not out of breath. We walked out on the trails, and then I got Gamble out.

Gamble was a whole different experience. We started off the first 100 metres at an even pace, but as he got going, he wanted to run. Whenever he'd go too fast, I'd haul him down to a walk and then start up again. We finished 1.4 kilometres in the first 3 minutes -- a 2:16 pace, which is about Training Level. Not bad -- but that was including walk breaks! I was losing track of time and it was getting dark, so the next 'three minutes' was at roughly the same page (including walk breaks). We did just under 2.5 kilometres in roughly 5:40 -- so, again, roughly 2:17 per kilometre. But I know we were hitting Prelim/Intermediate speed within that run, even with me holding him back.

Funny that we haven't run into that issue much -- him trying to "take-off" -- while on the XC courses. He can be a bit of a handful at times, but perhaps because he knows there are jumps, he trusts me to slow him down when necessary. But, ultimately, I should figure out how to better control his pace without having to haul on his mouth.